Event Details
Your Graced Legacy
January 7, 2022 4:00 pm
Bidi Millet, Presenter
Margaret Riley, Presenter
Your choice: San Damiano or Zoom
Explore your Personal Legacy
& Prepare Your End of Life Celebration
Cancellation policy
Overnight or Multi-day/weekend retreats: $50 fee. Day Retreat: $20. Fees may be applied to future retreats. The fees may be waived in event of extenuating circumstances. Contact Kateri at 925-837-9141 x315.
We're sorry, but all tickets sales have ended because the event is expired.
About the Event
Come away awhile and listen. On this retreat weekend, we will creatively use music, poetry, Scripture, quiet time, journaling and small group sharing to explore your personal legacy. We will use this exploration to influence the deeper hope of what your celebration of life would look like. According to Rachael Freed "As we accept the blessings and sacredness of our lives, then surely death, an integral part of life, must be sacred too." We invite you into this time with the Divine and one another.
The retreat commences at 5:30 PM.
Watch Margaret and Bidi share more about this retreat weekend HERE.
(Image "Inner Streams Resurrection by Sr. Mary Southard, CSJ)
About the Presenter(s)
Bidi Millet
Bidi is a trained spiritual director, practicing the art since 1996. She considers spiritual direction a deep privilege and graced entrustment. She has experience in accompanying people in discernment of life choices, grief, Twelve Step spirituality, and prayer.
Bidi holds a Master of Theology degree from St. Mary's College, Moraga, California with course work at the Graduate Theological Union, Berkeley, California. She received her certificate in adult faith formation from the Diocese of Oakland in 1989. She has experience in pastoral ministry, adult faith formation and retreat guidance. She received her certificate in spiritual direction from Mercy Center, Burlingame, California in 1995. For Bidi, spiritual direction is "a graced entrustment."
Bidi is married with two adult children, their spouses and six grandchildren. Grand mothering is her deep joy.
Margaret Riley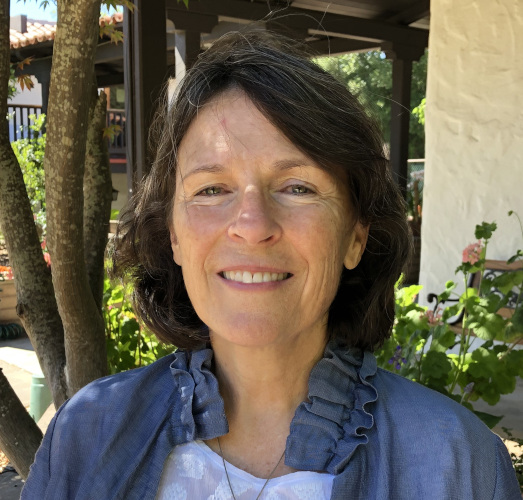 Margaret Riley has been a Spiritual Director since 2008, when she became certified via the Mercy Center in Burlingame, CA. Her Spiritual roots are Christian in the Roman Catholic Church, but in her practice as a Spiritual Director and retreat presenter, she enjoys companioning spiritual seekers from any tradition (or no tradition).
Margaret obtained a Master's degree in Pastoral Ministry from the Franciscan School of Theology, Berkeley, CA. (FST/GTU) in 2004. She has joyfully lived in the Bay Area for over 31 years and has been a full-time Minister in the Diocese of Oakland since 1994. Margaret's study, understanding and experience of spirituality is born of a great variety of sources, including but not limited to the Ignatian tradition, Social Justice work, Addiction Recovery and 12-Step spirituality, Codependency recovery, Divorced/Widowed healing, Grief and Loss, Incarceration/Justice work, Mindfulness/Meditation, and Franciscan Spirituality.
For Margaret, "Spiritual Direction is a humbling gift that God is giving me to help others know God IS working in their life, moving them to a mature faith, and an active life in the Spirit. I find it a great honor to journey with others on this Pilgrimage of Life."