Event Details
Six Day Silent Retreat – "I chose you" … Giving Birth to Christ in our Lives
July 23, 2023 3:00 pm
Fr. Rusty Shaughnessy, OFM, Presenter
Dr. Michael Cunningham, OFS, Presenter
Laura Woodworth-Gibson (Musician), Presenter
Check-in on Sunday is from 3:00 PM – 5:00 PM. Dinner is served at 6:00 PM. Mass will be offered Monday to Friday. The retreat concludes with lunch at noon on Friday. A Silent Retreat with Fr. Rusty Shaughnessy, OFM and Dr. Michael Cunningham, OFS, and Musician Laura Woodworth-Gibson
Cancellation policy
Overnight or Multi-day/weekend retreats: $50 fee. Day Retreat: $20. Fees may be applied to future retreats. The fees may be waived in event of extenuating circumstances. Contact Kateri at 925-837-9141 x315.
We're sorry, but all tickets sales have ended because the event is expired.
About the Event
Perhaps nothing is more complex or straightforward than our relationship with God. Yet, remembering or even recognizing that Christ lives within us is often forgotten or, at the very least, misunderstood. This six-day retreat led by Franciscans Fr. Rusty Shaughnessy, OFM, and Dr. Michael Cunningham, OFS informs us that nothing could be further from the truth.
Scripture and the Christian traditions are filled with the evidence that God "Chose us" and that we need to be open to the invitation to have Christ fully enter our lives.
Fr. Rusty and Dr. Michael will lead this silent, guided retreat with prayers, conferences, and contemplation aided by our team of Spiritual Directors in days of holiness and discovery. This retreat will lay paths for this exploration, and we invite you to join us on this epic adventure to the interior of our souls.
Join us for a six-day silent retreat at the Oasis of Peace, San Damiano, in beautiful Danville, CA.
About the Presenter(s)
Fr. Rusty Shaughnessy, OFM
Fr. Rusty Shaughnessy, OFM earned his MA in Theology at St. Mary's Seminary in Baltimore, MD. His Franciscan ministry has brought him to San Damiano twice, first as a retreat master for 7 years and now as Guardian. Fr. Rusty is well known for his humor, energy and honesty when sharing personal stories.
Dr. Michael Cunningham, OFS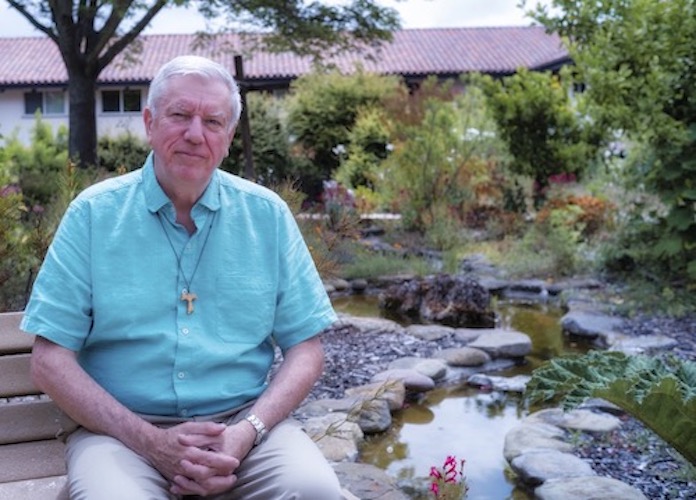 Dr Michael Cunningham completed his MA in Ministry at St. John's Seminary in Brighton, MA, and his Doctorate in Ministry at Catholic University in Washington, DC. He is the Executive Director of San Damiano Retreat in Danville, CA. Michael is married with four children and eleven grandchildren and is an avid writer, photographer and motorcyclist.
Laura Woodworth-Gibson (Musician)
Laura Woodworth-Gibson has been a Cantor and Music Director at Mission San Luis Rey Parish since 2011, and a frequent contributor at San Damiano since 2016. She has been involved in liturgical music since 1975, serving in parishes in California and Tennessee She is a graduate of Aquinas College in Nashville, TN.